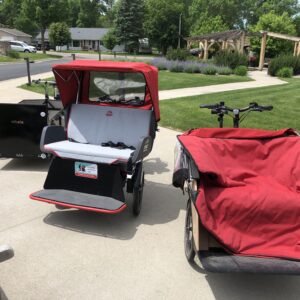 About The Fergus Falls Chapter
Cycling Without Age Fergus Falls is a partnership between Pedal Fergus Falls and PioneerCare.
Chapter Status and Plans
We are currently recruiting and training pilots for the 2023 riding season. Rides will be given from the PioneerCare Center and from Pioneer Pointe.
We will be using the Book2Go platform to schedule our rides this year.
If you are interested in participating in the Cycling Without Age program as a pilot, partnering organization, or funder, please contact us using the information on this page.
Upcoming Events
No upcoming events. Rides are underway and training for new pilots is happening on an as-needed basis.
Resources