Who We Are
Cycling Without Age of Greater Indianapolis is comprised of volunteers seeking to provide the joys of cycling to people in Indianapolis and Fishers who are unable to cycle for themselves. Our board of directors is comprised of a variety of professions including a physician, a police officer, a retired mechanical engineer, and two attorneys, who together provide our board with a wide breadth of knowledge and experience regarding the many elements of cycling. Our volunteers assist the program as either trishaw pilots or cycling escorts. Our pilots are the leaders of the service who take care of the necessary paperwork in addition to piloting the trishaw. Our cycling escorts bring their own bicycles to the service location and provide extra eyes and ears during the rides in addition to making sure the cycling path is safe for the trishaw and its passengers.
Rides in Greater Indianapolis have started
and our participants love the experience!
What We Do:
Cycling Without Age of Greater Indianapolis provides free rides in three ways:
We have regularly scheduled riding times at area assisted living facilities – Tuesday thru Thursday (May – October)
We schedule special riding events with businesses and organizations serving those who cannot cycle for themselves
We have open rides available to the public for those who cannot cycle for themselves and their companions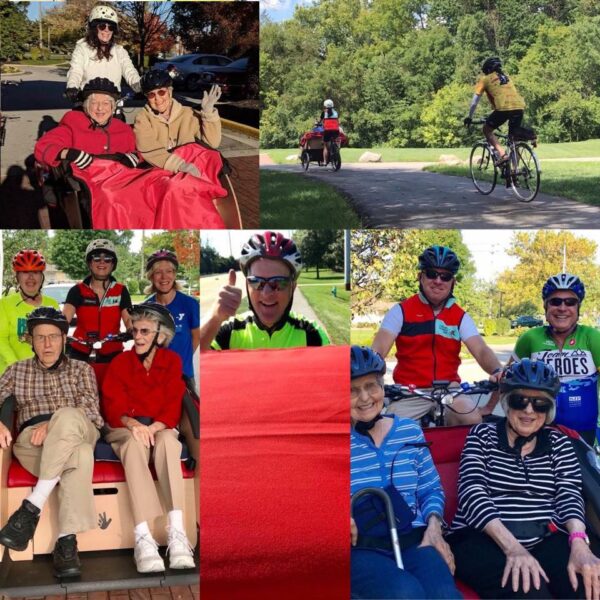 The Trishaw & Trailer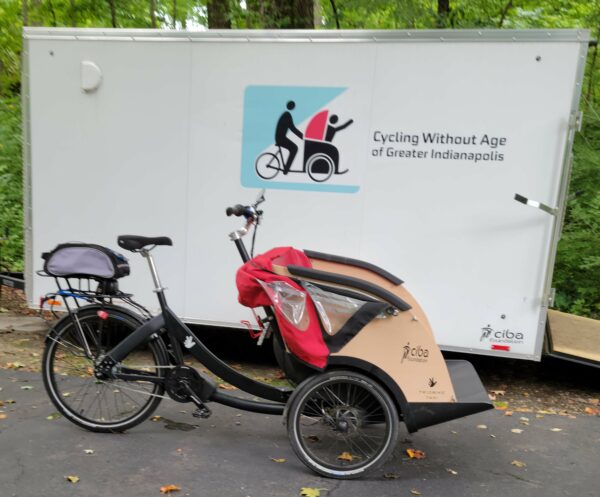 Ruth and Linda
Riders out on the Fall Creek Trail

Support CWA of Greater Indianapolis!
Your donations keep our tri-shaws on the road!  If you would like to support the Greater Indianapolis chapter, just click the button below.
PayPal – The safer, easier way to pay (and donate) online!