Welcome to CWA in McHenry County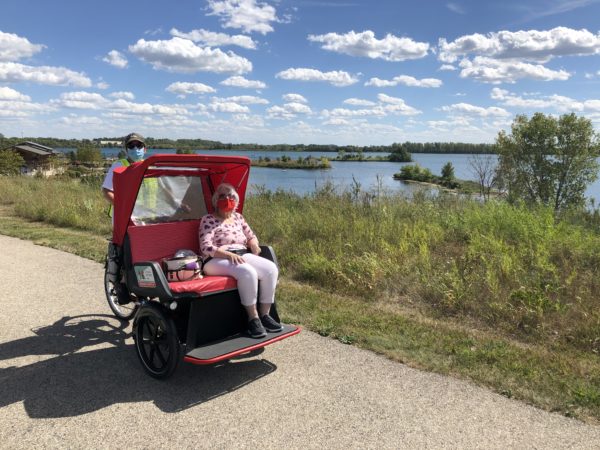 We are happy to have joined Cycling Without Age chapters in 42 countries.
Cycling Without Age is an amazing experience. Nothing beats an elder's joy, interacting with their pilots and the smiles of passengers returning from their first Trishaw ride with the wind in their hair, rosy cheeks and ready to share their stories.

WHAT ARE THE BENEFITS
Vision: Imagine living in one room where no one comes to visit, or being without the physical and/or mental capability to get out for a simple walk to feel the sunshine. Now envision gliding along a path, unencumbered by physical limitations, hearing the birds, feeling the wind in your hair, and sharing your stories. That's what Cycling Without Age is all about.
Mission: Our mission is to reduce the social isolation and loneliness of older adults in McHenry County.  Cycling Without Age McHenry County (CWA MC) provides free recreational rides on three-wheeled cycles called Trishaws, allowing isolated seniors to get outside, share stories and reconnect with their community. Our mission is all about helping older adults reconnect with the wonder of nature and joy of storytelling, and thereby reclaim their potential for growth even with the physical and/or mental challenges of aging.
History and Goals: CWA MC started in early 2019 by representatives of various community groups with a common interest in helping older adults. "First Ride" occurred in August 2020 and the program continues to grow, with the long-term goal of providing a Trishaw ride to every isolated older adult in McHenry County who wants one. In addition to reducing social isolation, the program also helps to build bridges between generations, and encourage age-friendly communities, which all serve to strengthen the "social glue" between McHenry county residents.
Values: CWA MC values the visible and invisible qualities that make people who they are and is committed to incorporate diversity, equity, and inclusion into all of its policies, practices, and programs.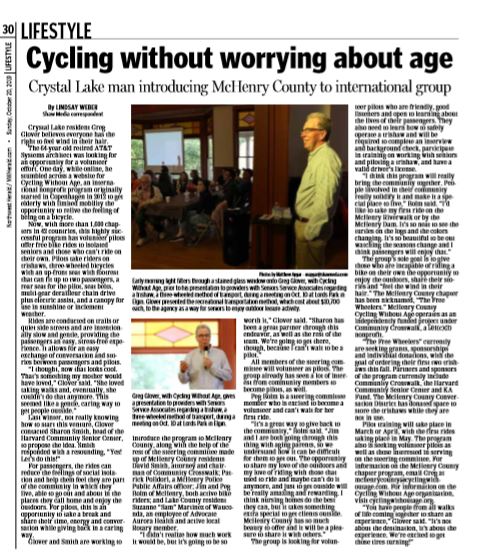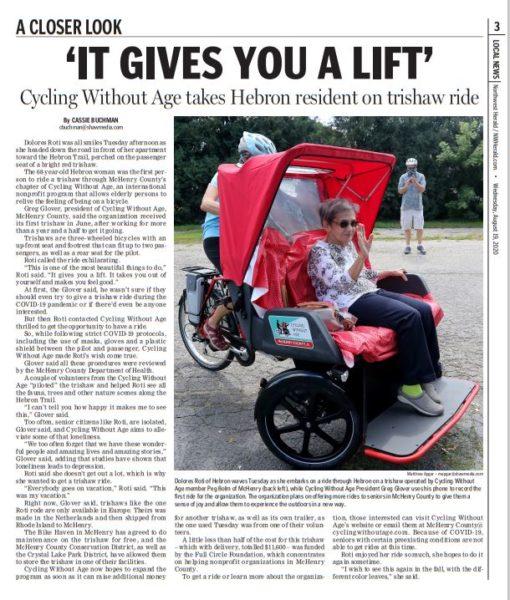 WHAT WE DO
A trishaw is a three-wheeled non-motorized vehicle designed to carry one or two passengers in front. It is pedaled like a bicycle by a "pilot" sitting behind and slightly above the passengers. The Trishaw also has a rechargeable battery for additional power when needed.
Trishaw rides are conducted on multi-use trails, side streets, parks, or other safe routes. Rides are intentionally slow and gentle, encouraging easy conservation or just quiet contemplation. An optional volunteer navigator on their own bicycle may also accompany the ride for additional safety, security and shared conversation.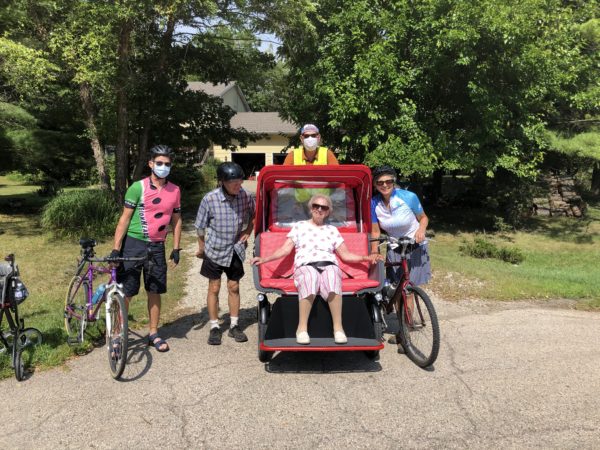 How to Volunteer or Request Rides:
Contact mchenrycounty@cyclingwithoutage.com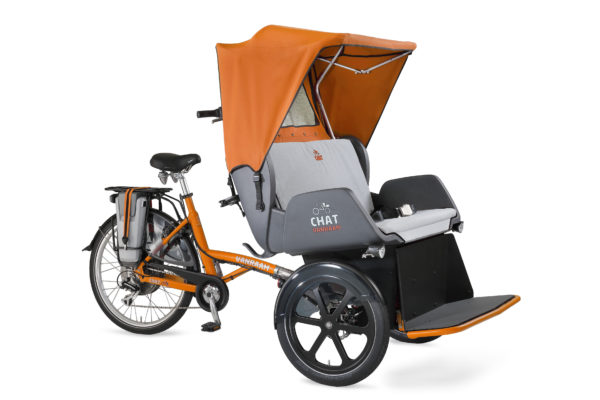 YOUR SUPPORT 
Cycling Without Age McHenry County is a 501c3 nonprofit organization.
CWA MC is able to provide rides at no charge because of the generosity of individuals, foundations, and businesses.
Donations can be made via paypal or by check. 
Checks should be made out to:
Cycling Without Age McHenry County
166 W. Crystal Lake Ave
Crystal Lake, IL 60014
Bring an elder out for an extended ride along the beautiful Prairie Path. Cycling Without Age McHenry County will be giving 45–50-minute rides every Saturday beginning September 18 (weather permitting). Rides will start on the hour between 10 am-Noon, and 1-5pm. Starting points will alternate Saturdays between the Prairie Trail Hillside parking lot, 5275 Hillside Road in Crystal Lake, and Peterson Park, 4300 Peterson Park Road in McHenry. Each ride can accommodate one or two people, and the elder can be accompanied by a non-senior companion if they desire. To register, click here. 
Cycling Without Age McHenry County is honored to announce the receipt of a 2021 Mission Grant from the Community Foundation for McHenry County. The grant for approximately $18,800 will be used to fund additional equipment to expand operations and reach an additional 600 elders across the County!