Welcome to CWA in McHenry County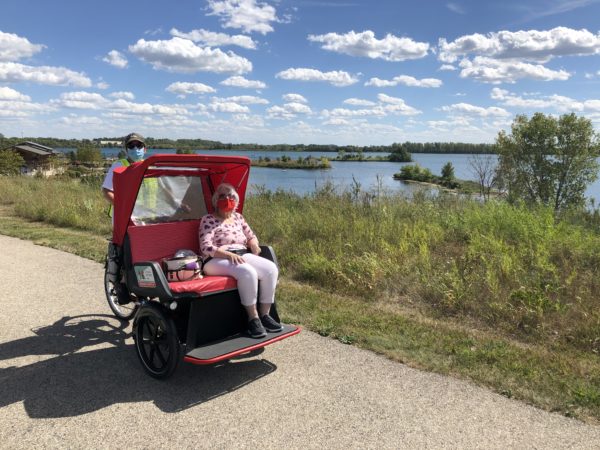 We are happy to have joined Cycling Without Age chapters in 42 countries.
Cycling Without Age is an amazing experience. Nothing beats an elder's joy, interacting with their pilots and the smiles of passengers returning from their first Trishaw ride with the wind in their hair, rosy cheeks and ready to share their stories.
WHO WE ARE
The mission of Cycling Without Age McHenry County (CWA MC) is to provide recreational rides to seniors or anyone without the mobility to ride on a bicycle on their own. Rides are conducted on battery assist three-wheeled vehicles called Trishaws. Rides are slow and gentle, providing an easy exchange between the passenger(s) and pilot.
CWA MC values the visible and invisible qualities that make people who they are and is committed to incorporate diversity, equity, and inclusion into all of its policies, practices, and programs. 
The "Free Wheelers" formed in 2019 by representatives of various community groups came together to launch the Cycling Without Age chapter with the goal of a May 2020 "First Ride."  
The Free Wheelers steering committee has been met with enthusiasm for the program to allow riders to make new connections and offer the opportunity to experience nature in a safe, unique, and reminiscent way. 
"You have people from all walks of life coming together to share an experience. It's not about the destination, it's about the experience. We're excited to get those tires turning!" 
WHAT WE DO
The goals of CWA MC are twofold:
-For riders the opportunity to:
feel a part of society, reducing

isolation

experience their neighborhood and

nature from close up

share stories 

"feel the wind in their hair" 
-For pilots the opportunity to:
share their time and energy

slowdown from their hectic lives

share conversation in a gentle and caring activity

enjoy the physical benefits of cycling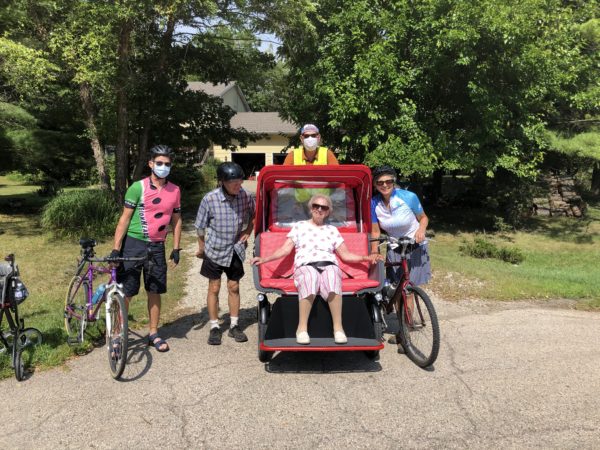 Interested in participating?
Contact mchenrycounty@cyclingwithoutage.com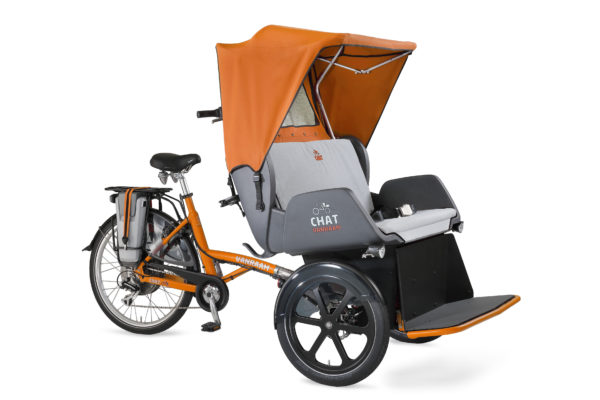 YOUR SUPPORT 
Cycling Without Age McHenry County is a 501c3 nonprofit organization.
CWA Free Wheelers are able to provide rides at no charge because of the generosity of individuals, foundations, and businesses.
Donations can be made via credit card or by check. 

Checks should be made out to:
Cycling Without Age McHenry County
166 W. Crystal Lake Ave
Crystal Lake, IL 60014
The Free Wheelers (MC CWA Chapter) would like to thank the following donors: 
Platinum Spoke Sponsor ($20,000+)
Gold Spoke Sponsor ($10,000-$19,999)

Silver Spoke Sponsor ($5,000 – $9,999)
Bronze Sponsor ($2,000 – $4,999)
Free Wheeler ($500-1,999)
Clearwater Capital Partners
Community Crosswalk
Crystal Lake Park District
Dan and Lynn Doherty
Door Service, Inc.
Harvard Senior Center
James and Peg Bolm
KA Fund
McHenry County Bicycle Club
McHenry County Conservation District
The Bike Haven
Friends (<$500)
Myles Adamson
Dylan Baker
Heidi Baker
Julie Baker
Marcia Baker
Sue Baker
Maryana Barcus
Heather Bechtel
Leslie Burgess
Ron and Cathy Cagle
Lyn Cablk
Stephanie Claussen
Stacy DeMarsh
Jackie Di Cecco
Julie Donley
Bridget Dudgeion
Erin Finlay
Dawn Gale
Tchalla Greene
Alison Hage
Angela Kalmerton
Jennifer Kuc
Richard Kuranda
Ralph and Mary Jo Losey
Suzanne "Sam" Martinez
Margaret Miller
Jessica Obenauf
Deputy Patrick Polidori
Elizabeth Proffitt Forsberg
Sharon Smith
Deb Stiles
Jessica Swearingen
Marybeth Urbin
Eberhard and Catherine Veit
Brenna Wing
Ruth and Jack Zabielski
David Zeigler